From the author of The Knabb 
Please contact This email address is being protected from spambots. You need JavaScript enabled to view it. if you have any questions or further info to add.
The stream with no name, part 1
February 2021
There are many such streams in our countryside. Hardly noticed, they wend their way quietly, largely lost in time and place. Most are little more than a good stride wide, yet many have an untold history. Some fade away, while others continue as before, perhaps, for centuries and never recorded. Anonymous, most are not named or on any map or plan. And so it is with the subject here, no name, but part of a hazy story dating back a thousand years or more. Here, the stream and its path have a local name, the Knab or Knabb. More correctly, 'Knabbe', meaning, 'a hilltop', a word originating between the 12th and 16th century. Could this offer a sign of its historic context? After all, a hilltop stands behind Whitegate House. Is it possible a Norman lord set a motte-and-bailey castle there to oversee what passed in the valley below? And, if not Norman, then some folk maintain there was an Anglo-Saxon presence in the area. Not only locally, more specifically, where the Knabb stream once fed Kingsley Mill.
This then, is not just a minor flow of water. It's a stream of historical significance flowing through a valley created during the Ice Age some 20,000 years ago. A stream may or may not have existed then but there is certainly evidence of its ice age past.
The Knabb is therefore an important stream connecting the present to a distant, largely forgotten past.
---
The source of this stream is a matter of guesswork. It certainly flows eastwards by Waterloo Farm before heading north. Visible alongside the road at Mill Field Farm, it turns beneath Guest Slack, to pass through a valley, not of its making, to Dark Lane. Disappearing in culverts, it shows itself at Brookside, then alongside Mill Lane, with a diversion, to the pool at Kingsley Mill.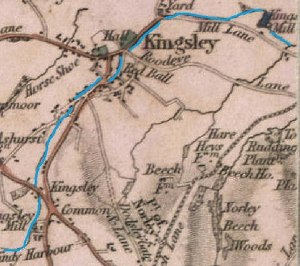 A narrow, fast flowing stream greets anyone walking alongside it, from Guest Slack to Dark Lane or by return. The stream is not how it once looked. Indeed, most, if not all, streams travelling across low-lying land have been modified at some point in time. Such a small stream struggles to flow over a level gradient. It seeks the easiest path and in so doing meanders, rather snake-like to make progress. Gone are the gently meandering bends in its journey, as mapped in the early 19th century, as shown in this map.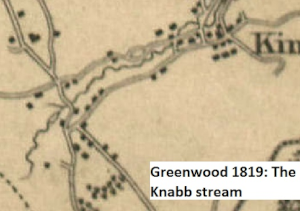 There is no way of knowing the state of the stream at that time. I would suggest it was wider, by virtue of its meandering path. Waterlogged land was likely on both sides of its course. Flooding would increase its flow and further erode the valley sides, especially on the Dark Lane side. Travelling along the valley would be difficult for anyone on foot. Roads were no better; dry and dusty in summer, muddy and impassable in winter. One thing is certain, a footpath by the stream was highly unlikely for people, not for horses, and certainly not for packhorses, but that's another story.
More on the stream in Part 2...