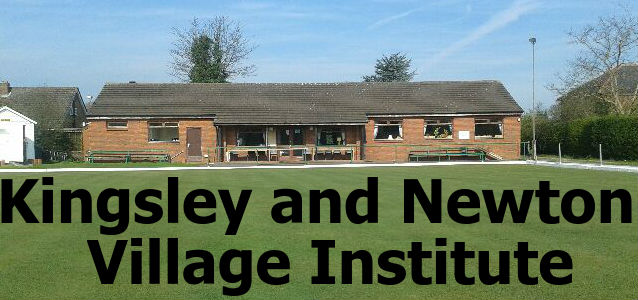 The Kingsley and Newton Village Institute is located on Top Road in Kingsley. There are 2 tennis courts, a mini tennis court and a crown green bowling green. The main room is available for hire for events with the use of a kitchen and bar available. There is weekly line dancing, art group, snooker and quizzes as well as indoor bowls sessions in winter. There are a range of tennis groups for adults and children and coaching can be arranged. There are also thriving bowling teams.


Contact details:
Chairman and Room Booking Secretary:
For all room bookings and events:
Jon Maddock - e-mail: This email address is being protected from spambots. You need JavaScript enabled to view it. Telephone: 07515 059129
Chair of Bowling Group:
For queries about getting involved in bowling: 
Rob Hill - e-mail: This email address is being protected from spambots. You need JavaScript enabled to view it. Telephone: 07871 556108
Tennis Coach:
For queries about getting involved in tennis and tennis coaching:
Bill Connell - e-mail: This email address is being protected from spambots. You need JavaScript enabled to view it. Telephone: 07710 103086
To join please follow the instructions on the following form:
KINGSLEY & NEWTON VILLAGE INSTITUTE Registered Charity No 517740
FRIENDS' 2022-2023 MEMBERSHIP APPLICATION FORM
All Adult and Student members of Kingsley & Newton Village Institute become a 'Friend of KNVI': their membership fee includes a donation of £15. Junior membership includes the requirement for Parent/Guardian to become a Friend of KNVI. The £15 may be Gift Aided to KNVI if the member is a UK taxpayer.
MEMBERSHIP CATEGORIES (Membership runs from 1 May 2022 – 30 April 2023)
FRIEND: 'Stand alone' supporter of the Institute and its activities: £15
BOWLS: Adult £40; Junior £25.
TENNIS: Adult £45; Junior (under 18 yrs) £30; Family £90; Student (in full time education): £30
Cheques payable to KNVI; BACS Transfer Details: A/C name KNVI, Sort Code 089299, A/C no 67203086 (if KNVI is rejected as a/c name, please try Kingsley and Newton Village Institute instead).
PLEASE PROVIDE THE FOLLOWING DETAILS:
MEMBERSHIP CATEGORY _____________________________ COST £____________
Name(s) (if Family membership please include all family names, and ages of children) ………………………………………………………………………………………….
………………………………………………………………………………………
Address………………………………………………………………………………
…………………………………………………………Postcode………………….
Telephone: …………………………… Email address……………………………
If your donation is Gift Aided, it provides valuable extra income for us. Gift Aid Declaration – Kingsley and Newton Village Institute
Please treat the sum of (£15 per adult) total: ………… as a Gift Aid donation.
I am a UK taxpayer and understand that if I pay less Income Tax and/or Capital Gains Tax in the current tax year than the amount of Gift Aid claimed on all my donations it is my responsibility to pay any difference.
Signature:……………………………………………………..Date………………………..
Please return form to Elizabeth M Batey, KNVI Treasurer, Higher Heyes Farm, Ball Lane, Kingsley, Frodsham, WA6 8HP. May alternatively be emailed to This email address is being protected from spambots. You need JavaScript enabled to view it.