ABOUT KINGSLEY WOMEN'S INSTITUTE
The WI meet at Kingsley Community Centre on the first Wednesday in the month at 7.30pm. We have a diverse range of speakers and demonstrations in a friendly atmosphere. 
Become a member of WI and have a powerful voice on local, national and international issues.
Membership offers a whole range of opportunities including monthly meetings, our membership
magazine WI Life, and the chance to take part in wide-ranging activities.
Joining WI means belonging to something special: making friends, working as a team, having fun.
For more details please ring 01928 788873 or email This email address is being protected from spambots. You need JavaScript enabled to view it.

2019/20 COMMITTEE
President
Joan Barker
Secretary
Janet Fletcher
Treasurer
Val Boote (with Elaine Foden)
Committee

Lynn Blyth,
Elizabeth Broad,
Maureen Cliff,
Marian Crossley,
Lesley Speed,
Hilary Tucker,
Marge Whitfield,
Chris Woulds
Kingsley Women's Institute Events 2020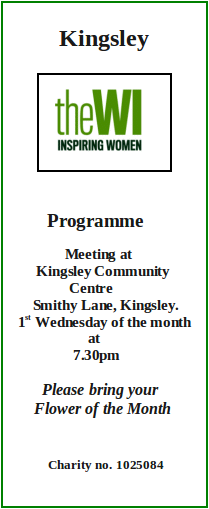 4th December 2019
Christmas Bauble making.
8th January 2020
January Meal.
5th February 2020
Through the Eyes of a Magician
Pete Turner
4th March 2020
'My Life as an Artist'
Speaker Emily Speed
1st April 2020
'That Certain Age'
Speaker Gay Rhodes
6th May 2020
The Secrets of a Cheshire Parish
Speaker Judy Popley.
3rd June 2020
Travel
Speaker Jai Porter 
1st July 2020
Drawing Cartoons 
Speaker Les Pickford
5th August 2020
Our Summer Outing
2nd September 2020
A Taste of Tea
Speaker Jennifer Perry
7th October 2020
Scarf Tying Demonstration and Pop up Shop
Speaker Jane Wingett
4th November 2020 
AGM
2nd December 2020 
Christmas Decoration making
We also have a book group, luncheon group and walking group, all meeting monthly.
And in the summer some members regularly play bowls at the Institute.
Come along to a meeting, visitors are always welcome.